John Wright of the
Murray Ledger & Times
writes about the hemp debate in his part of Kentucky, where the senior senator, Mitch McConnell, has just endorsed hemp, causing hundreds of news reports nationswide, with the Huffington Post and Jim Hightower jumping in.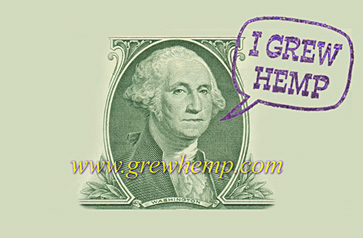 Industrial hemp is not marijuana!"
That is the argument supporters backing legislation to return the hemp crop to Kentucky fields are pushing as a bill enters discussion with the Kentucky state Senate Agriculture Committee this week in Frankfort. State Sen. Mike Hornback of Shelbyville, in fact, has pledged to bring the issue up for vote on the Senate floor before the current session of the Kentucky General Assembly is over.
Of course, even if both the Senate and state House approve the bill and Gov. Steve Beshear signs the bill into law, the federal government would still have to lift its ban on production of the crop that has been in effect since the 1930s when the word "hemp" became associated with terms like "Reefer Madness" and "Devil's weed."
"Right now, I'm trying to become more educated on the subject just like everyone else," said 1st District state Sen. Stan Humphries of Cadiz, a Republican, who said he has heard both positives and negatives on the subject, but admits that having a state official - Commissioner of Agriculture James Comer - become one of the bill's strongest advocates in the past year holds weight.
"He brings quite a bit of credibility to it for certain, especially with how he has traveled as far as he has to find out more about this. This is also at a time where I'm sure he sees how distressed communities in our state are and how this could create jobs. We just have to weigh all of the options," Humphries said.
Before its association as a sinful product, hemp produced numerous useful materials, such as rope and clothing. With the U.S. being the only nation worldwide to ban the cultivation of hemp, some modern-day uses of the plant overseas are being discovered that include paper, plastics, even food and automobile parts.
"I've spoken to 12-15 people about it, and I haven't heard anyone say they're against this, should the federal government bring it back," said 5th District state Rep. Kenny Imes of Murray, who said he has either received yes or wait-and-see answers from people to whom he has spoken in his home county of Calloway. "When you look at the potential products that can come from this plant it is easy to see why people would be for it.
"From what I understand, you also wouldn't need a whole lot of special equipment to plant it or harvest it, so it makes a lot of sense economically. I think this is something - where if we're going to do it - we need to go ahead and get something on the books so that if the federal government does lift the ban, Kentucky can be the first state producing again. That could mean all kinds of job opportunities."
Imes also acknowledged concerns of law enforcement of being able to tell marijuana plants from the industrial version. The Murray Republican said he feels that advances in high-technology, namely GPS tracking that is common in many fields these days, could be utilized to help make that easier to distinguish.
Studies also have shown that the industrial form, when cross-pollinated with the marijuana plant, is dominant and would eventually absorb its cousin cannabis.