The following is an interview with blues recording artist and music teacher Chic Streetman. His biography/discography are posted below the Q&A.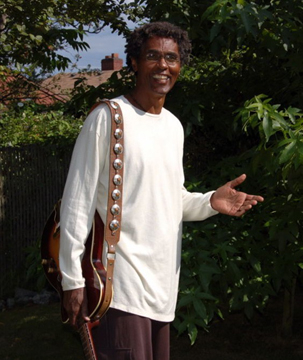 Q: Chic, you teach young children. They will need jobs about a decade after they leave your classroom. Does it bother you that so many jobs have left the US, and that these young Americans have less prospects?
A: It does. The politics needed to turn it around rests with "we the people". We, as a people need to address our GREED.
Q: Hemp provided raw materials, hence jobs, for Americans for centuries. Do you think that part of the present economic distress is due to the prohibition of hemp?
A: I suppose? I have heard that hemp production is not that profitable, that it requires long hours for little benefits reaped, but I don't knowhow true that is?
Q: Does it ever bother you that guns are legal - and hemp is not?
A: It bothers me that "we as an American people" are so filled with rhetoric and fear, power and greed. Senseless killing by gunfire will continue until we as a community of Americans are done with it. Newtown awakened many of us, and then guns sales spiked even higher.
Q:
Are the present efforts of the hemp movement as good as they could be, or is it possible that we need to unite ourselves much more and become more visible?
A: You may need to become more visible because I don't know much about the movement.
Q: Do you think we have more people and potentially more power than the NRA, and if the NRA can push their agenda, can we not do a better job and make hemp legal?
A: The NRA is big and powerful. Why? I don't get it? If your concern is simply to make money with hemp then it will become legal eventually because somebody will be making money.
Q: Do you ever wonder if the lawmakers are being used by lobbyists to keep hemp illegal?
A: Never think about it.
Q: Have you ever written to your legislators or contacted them on this issue in any way, and if so, what has been their response?
A: Never.
Q: Lastly, you play guitar. Recently hemp has been used to manufacture guitars in Canada - have you heard of this or ever used such a guitar?
A: Sounds familiar. I will check it out.
Chic performs in clubs, colleges, theaters, performing arts centers, special events, high schools and middle schools. His lyrics focus on the positive alternatives while entertaining in a spirited manner. His music transcends cultural barriers through acoustic bluesy ballads and funky upbeat originals.
Chic recorded his first album in Paris, France in '75 and later settled in Santa Barbara, CA where he founded Chic Street Man's School of Performing Arts. He has been a featured performer on many stages, including the Paleo Festival, the Montreux Jazz Festival and the Bern Jazz Festivals in Switzerland, the National Storytelling Festival in Jonesborough, TN, Johns Hopkins in Baltimore for Cancer Survivor's Day, the General Assembly of the United Nations in New York for the International Day of Peace, and he has given benefit concerts for the United Nations Human Rights Center in Geneva.
Chic composed the music and starred in the off-Broadway hit show, Spunk, adapted by George C. Wolfe. He received a 1990 Audelco Award and a 1992 NAACP Theater Arts Award for his music and performance in Spunk. Chic composed the score and starred in the Berkeley Repertory Theater's production of The Caucasian Chalk Circle. He was a contributing author, performer and musical arranger for the Denver Center Theater Company's It Ain't Nothin' But The Blues, and toured with the show in D.C., Arizona, Kansas City and Seattle. Chic composed the score for the Alabama Shakespeare Festival's world premiere of A Lesson Before Dying. He composed the score and was the featured performer in the Cleveland Playhouse's world premiere of Touch The Names--Letters to The Vietnam Veteran's Memorial. He wrote and performed A Black History of The Blues for the Smithsonian in Washington, DC. Chic was the Arranger, Musical Director and Composer for the McCarter and Berkeley Repertory Theater's production of Zora Neale Hurston's Polk County, where he also won the San Francisco Bay Area Theatre Critic's Circle Award for Musical Direction. He played the role of "Slow Drag" at the Seattle Repertory Theater's production of August Wilson's Ma Rainey's Black Bottom, and he composed the music and starred in Richard Wright's Native Son at Seattle's Intiman Theater. Chic was the guitar man in the Oregon Shakespeare Festival's production of Ruined and Professor Slick in Pullman Porter Blues. He starred in the Mark Taper Forum production of Lost Highway, the story of Hank Williams, and has appeared in the films Triple Bogey and Hangin' With The Home Boys.
Chic has several album releases, including Guns Away, Everybody Be Yo'self, Beau-ti-ful, Lullablues and Sidewinder.
Chic is on faculty at the Seattle Conservatory of Music and the Heifetz International School of Music in Staunton, VA.