Richard "Kinky" Friedman, a humorist and country music singer, got one step closer Tuesday to adding another line to his résumé: agriculture commissioner of Texas.
It's highly unlikely that the colorful candidate will go on to win a statewide position in deep-red Texas, but Friedman did make the Democratic primary runoff for the position.
He'll compete against cattle farmer Jim Hogan in that May 27 contest, but a Republican is heavily favored to win the general election.
Friedman has run for office in the Lone Star State several times before, including for the same position in 2010. Then he also made the cut for a runoff before losing the ultimate battle for the nomination.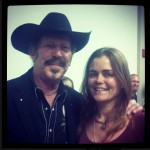 [photo is Kinky with Mina Hegaard of Minawear]
Read more:
http://www.politico.com/story/2014/03/richard-kinky-friedman-texas-agriculture-commissioner-runoff-104270.html#ixzz2vI7dNqbf